2018 Avon Schools Challenge
The Avon Schools Challenge is an integral part of our commitment to developing physical and mental health across Western Australia and for fostering a new generation of world class athletes.
We encourage you to get in touch today to discuss your school's participation in WA's newest inter-school competition in 2019.

For any queries not covered below, please Contact Us.
Click to go to Entry Form or Payment Page

Overview
Students will begin on the Avon Descent start line in Northam on the Saturday morning and race downriver towards Duidgee Park in Toodyay

A total distance of 30km

 
All paddle craft formats are permitted – Single and Double, Kayak, Canoes and Skis

Participation using other types of paddlecraft is flexible and we encourage you to get in touch to discuss further

All participating students will receive an Avon Descent entry race pack

Prizes will be awarded at a finish line ceremony conducted by the Avon Descent Chairman at the Toodyay International Food Festival.
Participating schools will also gain free access to a 5 week training program developed by

Olympic medallist and Australian sprint and marathon champion Ramon Andersson
Terms
Participation open to students aged 14 – 17 years only

There is a compulsory portage for all competing craft at Katrine Bridge and again at Williamson Weir
We will happily accommodate for on-water adult supervision however this is not a requirement to participate
Students will be given 2x BLUE Race ID Craft Stickers that must be attached to craft in order for us to record a finishing time.

Helmets & PFDs will be the responsibility of schools and their representatives




Paddling fitness and eligibility for students to compete will be the responsibility of schools and their representatives

 
Entry Fee
Course Map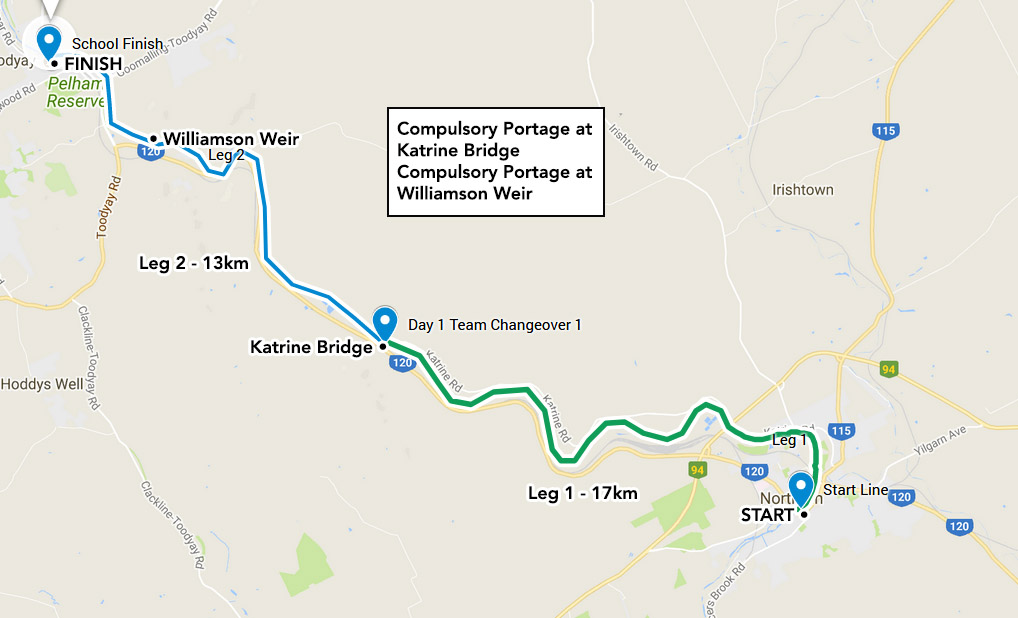 Entry Form - To be completed by school representative/supervisor