The most up to date course location info for those following the race can be found in the Competitor Booklet under menu COMPETITORS > COMPETITOR GUIDE
Additional information can be found in the Spectator Guide under COMMUNITY & SPECTATORS > SPECTATOR GUIDE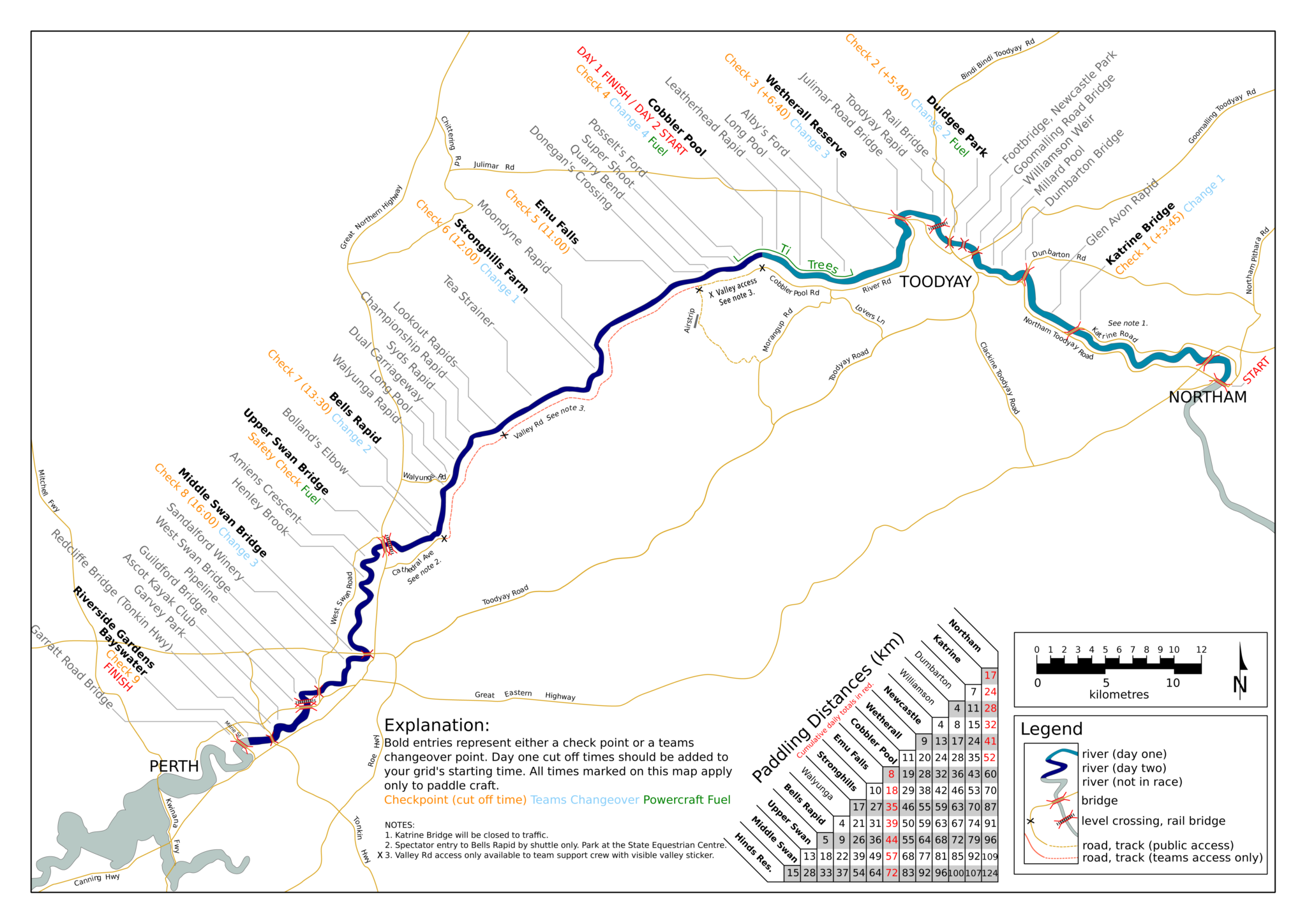 Stage 1 - Northam to Katrine
17km • Grade 1 • from 8:00am
Start Marshalling Area
Streets adjacent to and including Broome Terrace will be closed on Saturday morning. Follow signage to designated parking areas, there is ample parking on the town side of the Avon River.
Support Crew & Spectators
Northam: follow directional signage to designated parking areas. 
Please do not park in the travel area near Northam Weir. When leaving the Town of Northam, follow signage to Toodyay. Follow Newcastle Road – Toodyay Road and turn right to access Katrine Bridge. Please slow down when approaching Katrine Bridge as there are many pedestrians in this area. 
Katrine: the scenic drive on the north of the river is closed. Access is not permitted to Glen Avon Rapid. Glen Avon Rapid will be patrolled and there is strictly no access.
Stage 2 - Katrine to Newcastle Bridge
15km • Grade 1 • from 8:10am
The hazard of Glen Avon Rapid is 2km downstream from Katrine Bridge, followed by 7km of coffee rock with negotiable channels. Sinclair's Crossing, beneath Dumbarton Bridge, creates a hazard in low to medium water. 
The next challenge in Extracts Weir. This 3m high rock weir provides one of the most spectacular sights on the river. Many competitors will portage here – dependant on the river levels. 
Support Crew & Spectators
From Katrine: leave Katrine heading north along the Northam Toodyay Road and follow to Extracts Weir, 
Extracts Weir: Do not park on the road verges. A sanctioned parking area is provided. Parking fee is payable by spectators. One Support Crew vehicle per team will be provided free acess with the Support Crew sticker on the vehicle. 
Toodyay: ample parking is available surrounding Duidgee Park and checkpoint 2 is located at Duidgee Park beneath Newcastle Bridge. A checkpoint information board with race updates is also available here.
Stage 3 - Northam to Katrine
9km • Grade 1 • 8:30am
The area near the Checkpoint can be difficult for craft and Power Craft should keep to the right in all but the highest water when passing through. Coffee rock prevails for the next 2.4km where you will reach the Railway Bridge. Just 500m past this bridge is Toodyay Rapid, a small drop with many granite boulders. The course is then a mainly shallow and wide river to West Toodyay Bridge. The riverbed from West Toodyay to the Ti Trees is mostly sand with some gravel offering accessible channels. 
Support Crew and Spectators
From Toodyay: Support Crews should leave via the railway subway and turn right at the T-junction at Harper Road. Harper Road becomes Julimar Road and the Railway Line will be on your right. 
West Toodyay: To increase safety, please do not park on the Julimar Road Bridge. There is limited parking available on the Toodyay side of the bridge. 
Wetherall Reserve: Continue along Julimar Road and a short distance after you cross over the railway line, turn left into River Road (just before the West Toodyay Bridge). Proceed along River Road approximately 1.5km and Wetherall Reserve is on the right.
Stage 4 - Wetherall Reserve to Cobbler Pool
11km • Grade 1 • from 8:40pm (Cobbler Pool from 9:00am)
Channel exist in the Ti Trees but the frustration comes in trying to find them. Albys Ford is reached just after entry to the Ti Trees. Water levels play a great part in the ease or difficult with which the Ti Trees may be negotiated. Should competitors be caught in the Ti Trees at nightfall they must head for the left of the bank only and report to a race official. Approximately 200m after Leatherhead Rapid, look out for the finish line indicating the end of Day One and a well-deserved rest! 
Support Crews and Spectators
River Road: Please take caution on  River Road as it is a gravel road. Turn right out of Wetherall Reserve parking area and if you park along this gravel road, ensure your vehicle doesn't clock other traffic. Turn right at Jimpering Brook Bridge onto Cobblers Pool Road and head toward the overnight campsite. 
No dogs or other pets allowed.
Alternate access to River Road into Lovers Lane and after 7.3km turn left into River Road. Care should be taken 5.9km along Lovers Lane where it crosses Jimpering Brook. It may be hazardous in wet weather. 
Boral Cobbler Pool Start/Finish: due to the number of people and vehicles it would be appreciated is movement of vehicles within the area is kept to a minimum. Major roads within the campsite are one way only so please obey direction. Police and security personnel with be patrolling the area.
Stage 5 - Cobbler Pool to Emu Falls
8km • Grade 2/3 • Paddlers from 7:00am, Power Craft from 12:00pm
The worst of the Ti Trees beckons competitors at the start of Day Two. Rocks and misleading channels are found right through the Posselts Ford. 
Depending on the water level, large boulders immediately above the Ford can be a bone jarring slide or virtually non-existent. 
Shortly after Posselts Ford is the Super Shoot. This small rapid is more dangerous than it looks and should be approached with care. The river is then open water with a few trees before narrowing dramatically to Donegan's Crossing.
From Donegan's crossing there is a series of small metres of rapids culminating in the main fall of about 2m. Water funnels into one gap at the base of the Falls causing congestion in all but very high water. This is known as the 'Washing Machine' and should b taken with great caution. 
Support Crew and Spectators
Leaving camp, there are two available options.
Exit left via Cobbler Pool Road and Lovers Lane to Toodyay Road. All vehicles towing caravans must exit this way. 
Exit right for Support Crews and Spectators wishing to see the action at Emu Falls to Quarry Road. Quarry Road is one way only and no caravans are permitted. Then turn right out of the campsite and follow Cobbler Pool Road (No stopping). Turn left at the Quarry Road, taking extreme caution when crossing the railway line and continue for approximately 3-4km to the Emu Falls Airstrip. There is no vehicle access to Emu Falls. Support Crew and Spectators must leave their vehicle at the Emu Falls Airstrip Parking area.
Emu Falls via Toodyay Road: If heading south along Toodyay Road, turn right at Morangup Road and follow signs to Emu Falls Airstrip.
Stage 6 - Emu Falls to Stronghill Farms
10km • Grade 3 • From 7:30am
There are several rapids and small drops in this stage. Many Power and Paddle Craft has become victim to the river in this section over the years. Support Crews and Spectators (except teams) will not have access to their competitors at Stronghills. The next checkpoint is at Bells Rapid. To exit Emu Falls keep heading south along Quarry Road and turn right at Morangup Road. This will take you to Toodyay Road and turn right towards Perth and the next checkpoint at Bells Rapids. 
Support Crew for Teams Only: Upon leaving Cobbler Pool, turn right out of the campsite and follow Cobbler Pool Road to the Valley Road and Quarry Road junction. Cobbler Pool Road turn into Valley Road at this junction. Continue straight onto Valley Road where you will be stopped by a Race Official and checked for your Valley Sticker and Support Crew Lanyard Care. 
No sticker = No entry
Stage 7 - Stronghills Farm to Bells Bridge
21km • Grade 3/4 • From 8:30am
This part of the river is home to a number of hazards including a 140m drop through Walyunga National Park. There is a series of small rapids below the lookout. The first of the major obstacles is Championship Rapid which is low, flat and wide. In very high water it becomes a series of standing waves. A sequence of small drops takes the competitors to the big challenge of the river, Syd's Rpaid. 
This 100m rapid is a mass of rock and once competitors are launche into this long gradient they are committed to its awesome power. The river is then wife open water and a few trees to Long Pool. From Walyunga pool the river becomes very narrow and winding. The last great obstacle of the Descent is Bells Rapid. Once this white water stage is complete, the river opens out through the beautiful scenery of the Upper Swan.
Support Crew and Spectators (except teams): continue on Toodyay Road towards Perth and at Great Northern Highway turn right. Turn right on Cathedral Avenue and follow parking and shuttle bus directions. Bells Rapid can only be accessed via the shuttle bus. 
Support Crew and Spectators must leave their vehicle at the State Equestrian Centre Parking area and use the shuttle bus provided. Support Crews must show their Access Lanyard Card for hole punching. Allow a 25 minutes turnaround for the shuttle bus.
Teams Support Crews: enter via the Valley Road and follow directions of officials and park in the lower car park at Bells – extra support crew vehicles will not be permitted entry down to Bells via Cathedral Avenue. If extra support crew vehicles which to meet their competitor at Bells they must park at the State Equestrian Centre and take the Access Lanyard Care to show to the attendant before taking the shuttle bus to Bells. They will get priority access.
Stage 8 - Bells Rapid to Middle Swan Bridge
18km • Grade 1 • From 9:15am
Downstream from the Upper Swan Bridge the river gradient is slight and the channel shallow. Competitors face 4km of Ti Trees and scrub before the river opens out into tidal waters. Ellenbrook enters from the right just before the end of the trees.
Support Crew and Spectators
Upper Swan Bridge is located on Great Northern Highway. Take care when parking and if you stop here, please ensure your vehicle is not blocking traffic. Middle Swan Bridge can be accesses via Great Northern Highway. Turn right into Middle Swan Road and after a short distance turn left (follow the signs). Head under the new bridge and park in the designated area.
Stage 9 - Middle Swan Bridge to Bayswater Finish Line
15km • Grade 1 • From 11:00am (Bayswater from 11:30am)
The Power Craft enjoy the long winding open river but for paddlers, this section is often difficult or at least testing, especially if headwinds are present. In the final stage of the race, competitors have the finish line in sight and feel the elation of competing the Avon Descent in front of a large crowd gathered on the riverbank. All competitors finish at Riverside Gardens, Bayswater to an athlete recovery area and the Bayswater Family Fun Day.