Avon Descent Safety & Tips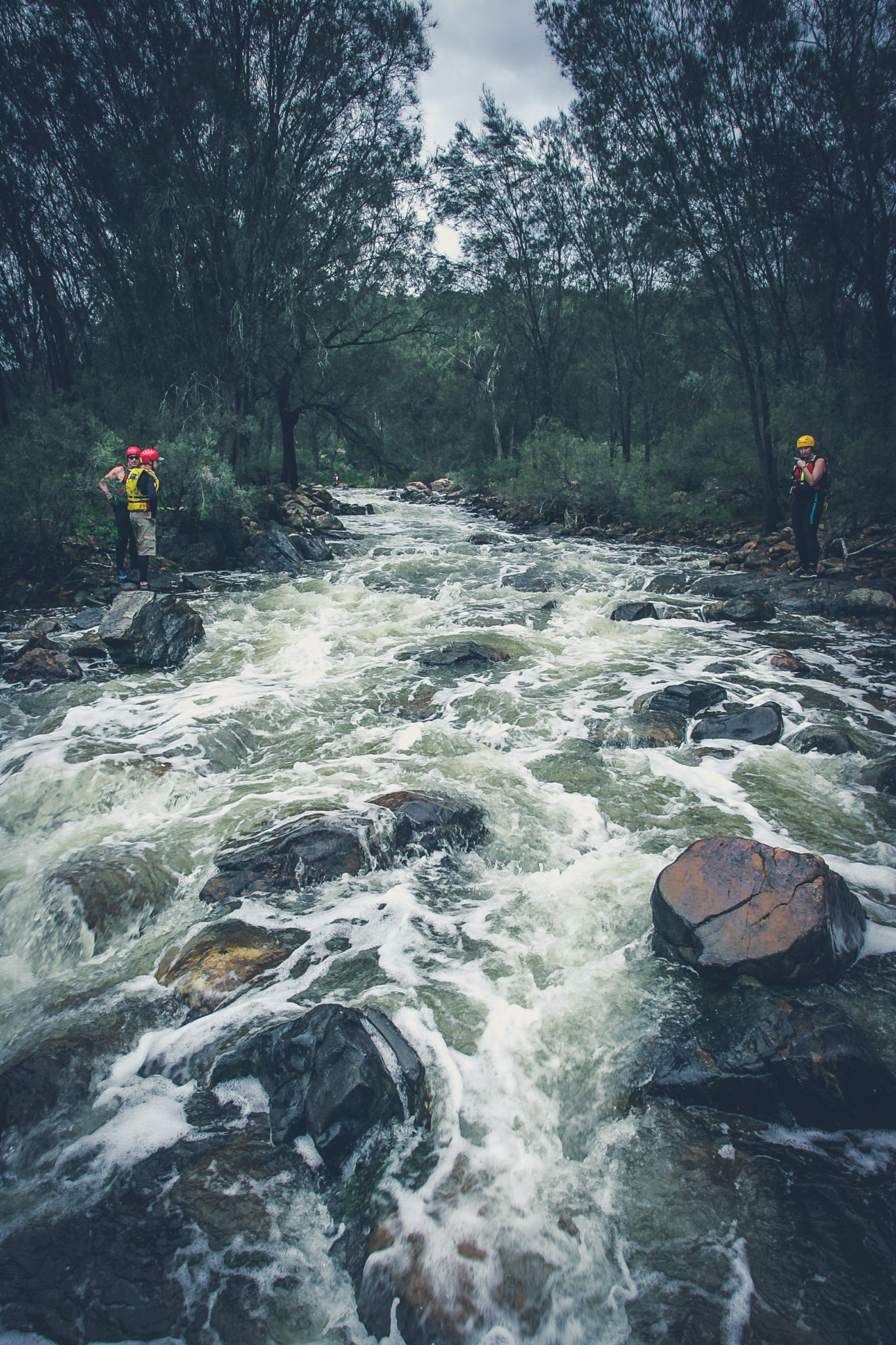 The weather in the Avon Valley can be magnificent in August, but it can also be very miserable – wet, cold and windy. River levels will vary and with that the difficulty of the course. You can assume that the race will go ahead no matter what the weather, but we encourage you to be sensible about the gear you take and your own level of skill and experience when on the water, whether before, during or after the event.
The event can be dangerous as water levels in the Avon River and upper reaches of the Swan River can produce dramatic changes in race conditions. Powerboaters and paddlers alike  should have a high level of fitness and competency. Special training courses are available for novices.
The conditions encountered by competitors during the event can alter substantially depending on river levels. The various difficulties and obstacles to be expected during the event are discussed in the Race Stages. The whitewater grades of difficulty to be expected can vary from Grade 1 to Grade 4. Typically there are Grade 2 and Grade 3 whitewater rapids. The description of the grades can be viewed below.
General Tips



Get fit! Make sure you're fit enough to race in the Avon Descent. Maintain your training routine as high fitness levels reduces the risk of injury.
Be prepared – assess the weather and river conditions and prepare yourself accordingly.
Prevent hypothermia. Keep warm and dry where possible and be aware of the warning signs (shivering, muscle weakness, abdominal cramps, lethargy, hallucinations, aggressive behaviour and euphoria)!. Change into dry/warm clothes immediately following the days racing or training session. Seek medical help if symptoms persist.
Drink plenty of fluids before, during and after the race. Thirst is not a good indicator of hydration. Cool water is a good fluid replacement drink. Fuel up – keep your energy levels up by eating high carbohydrate and low fat foods before, during and after the race.
Clothing/ Safety

equipment
Buoyancy vests and helmets are essential. Helmets must be of a rigid type and designed to give protection to the forehead and temple areas. Wet boots with hard soles or sand shoes, sneakers or gym boots are ideal. Adequate foot protection is essential both in the water and on the bank in the event of a capsize.
Remember to wear weather appropriate clothing. Thermal clothing (tops and bottoms) and a CAG (windproof/waterproof top) are also recommended. Protect yourself against sunburn and windburn on all exposed areas.
Secure spectacles, if worn.
Access & Private Property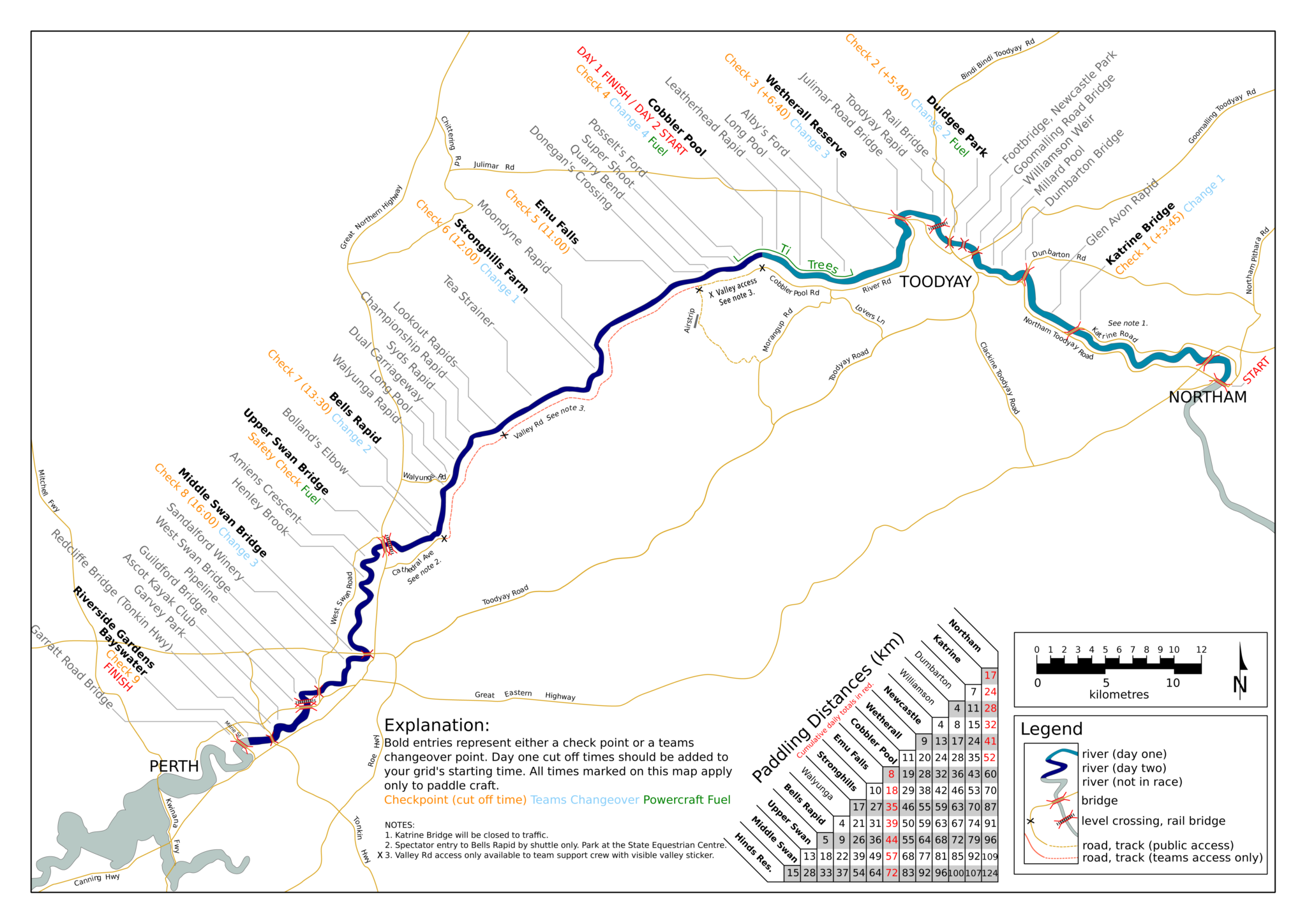 Only access the river from publicly accessible locations. We are generously given permission to run the event by making use of private land and must ensure landowner wishes are respected at all times to ensure the event can continue.
'Glen Avon' Rapid – Situated on private land and must not be be accessed without explicit landowner permission
Extracts/Williamson Weir – Access via Millard's Pool only. Adjacent farmland is strictly private property and you must have landowner permission to do so.
Ti Trees on Day One (otherwise known as 'Deepdale' or 'the Drainpipes') – Access only via Wetherall Reserve. All areas downriver of Wetherall Reserve until Cobbler Pool road are situated on private property and are strictly prohibited. Much of this area includes sensitive biological control areas and police will enforce attempts at trespassing.
Cobbler Pool – this is public land and is freely accessible.
Walyunga Pool – National park area and rules apply, a fee is applicable on entry
Bells Rapids – Public access area but may be closed to vehicles if river conditions are treacherous. One way road access only.
The Valley Road – This area is not accessible to the public, only to authorised vehicles. There is a high level of train traffic making it very dangerous.
Stronghills Farm – private leasehold land and not open to the public.
Paddle Tips
Never paddle alone during training and be honest with yourself about your abilities.

In the event of a capsize, try to hold on to the upstream end of the craft, then head for the nearest bank.

If you go for a long traning paddle, allow enough time to reach your destination in daylight hours.

When the canoe is side on to the current, always lean downstream.

Do not hold on to stationary objects such as overhanging trees.

When starting out in a fast moving current, point the bow upstream. When the current catches its nose, the craft will swing around, placing you in mid-stream, away from the bank.
Tips for Nutrition
Regardless of whether you have just started training, or are well into your training program, you should be thinking about the following:
Variety of Training
For the next few weeks you need to ensure you're hitting aerobic, anaerobic and lactic training types. Vary it up and if you feel you may have the endurance but lack the sprint type, add some in to prevent any blowouts on the weekend.
Recovery & Tapering
As you head into the weekend, you'll want to be ensuring you are getting a good recovery from each session and getting the most out of the sessions. Keep them focused and make sure you get the sleep and nutrition you need to be 100% for the next one.
One week out you can cut your training to make sure you're fresh in the seat for the weekend. Reduce length and intensity of your sessions at this point- you won't gain anything from hurting yourself now.
Nutrition
Nutrition is especially important in the last few weeks before the race. A good diet, regular meals (even when busy at work) and hydration are key. You might even consider trying sports supplementation to ensure you're getting enough and at the right times.
Immediately after training you need carbohydrates to replace lost muscle glycogen stores and protein to replace damaged muscle tissue.
In the weeks leading up to the race, you need to be thinking about what you will eat before, during and after the race days and practice with those combinations now.