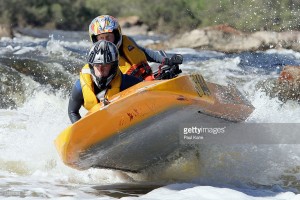 Power dinghy racer Jay Branson has a simple philosophy that sums up his approach to the Avon Descent: "the boat's either on the podium, or on the trailer".
It is this Bayswater or Bust attitude that has produced some of the most spectacular racing in the event's history .
The records show that his often battered number 144 has DNF next to it here and there, but when it does finish, it is usually at the front or not far from it.
Jay has a motocross background and still loves his dirt bikes. There is no doubt some of the aggression and commitment needed in off road racing has translated to the river.
"I think the Avon…especially when it is low… is really an extreme sports event rather than a white water race," says Jay, "and that is the way I think it needs to be approached."
One of the Avon's true personalities, Jay's determination to win has not been his sole focus during his racing career. He is an unselfish contributor to the Avon Descent in general and has helped a number of competitors break into the sport.
"I reckon there is nothing better than providing help and guidance to a novice competitor and seeing them finish a race. It's a great feeling," said Jay.
Jay is also a keen recreational paddler and seeks to foster good relations between the paddle and power fraternities that together make the Avon Descent the unique event that it is.
The renewed commitment from Northam's Avon Descent Association to the future of the event with its "Hell or High Water" theme has also won Jay's support. "I am in love with this, it is the best thing I have heard in years. "We just have to deal with the river and can't let water levels dominate our thinking."
Jay said he would also like to see an Avon Descent festival at the Boral campsite at the end of day one and encourage much more interaction between competitors and the public at the finish line the next day. "If we want to find the Avon Descent competitors of the future, we need to let them get up close."
So if you are near the river on that early August weekend, keep an eye out for boat 144. If you have a camera handy, you might have to be quick.