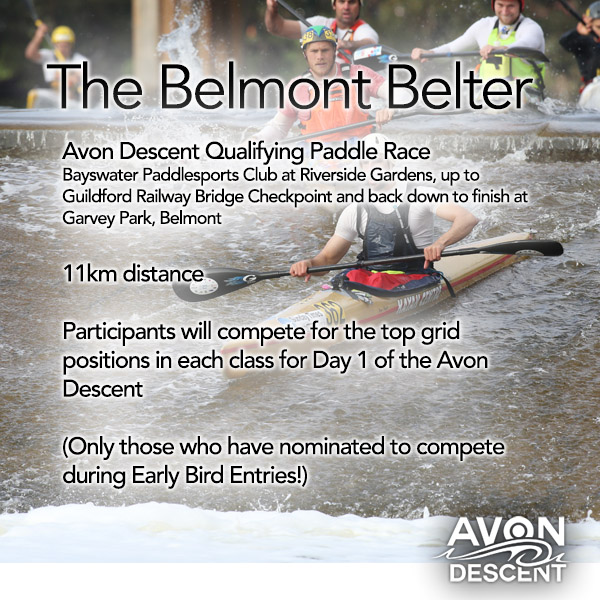 Avon Descent Scrutineering has just gotten that extra bit more exciting with the Belmont Belter!
This Qualifier race pits the top competitors of the Avon Descent against one another in an 11km sprint to claim the top grids on Day 1 of this year's Avon Descent.
Only entries submitted during Early Bird that nominate are able to compete in the race.
If you want to compete next year then get your entry in early!
Scrutineering Starts: 9:00am
Compulsory Safety Briefing: 9:45am
Race Start: 10:45am
Those competing in the Belmont Belter will proceed through a separate line at Scrutineering. Craft stickers will be provided on the day and will be attached to craft prior to their race. Race times will be based on your Avon Descent Race ID number. Without your stickers you will not be given a time and therefore will be ineligible for a place in the top grids.
Course Map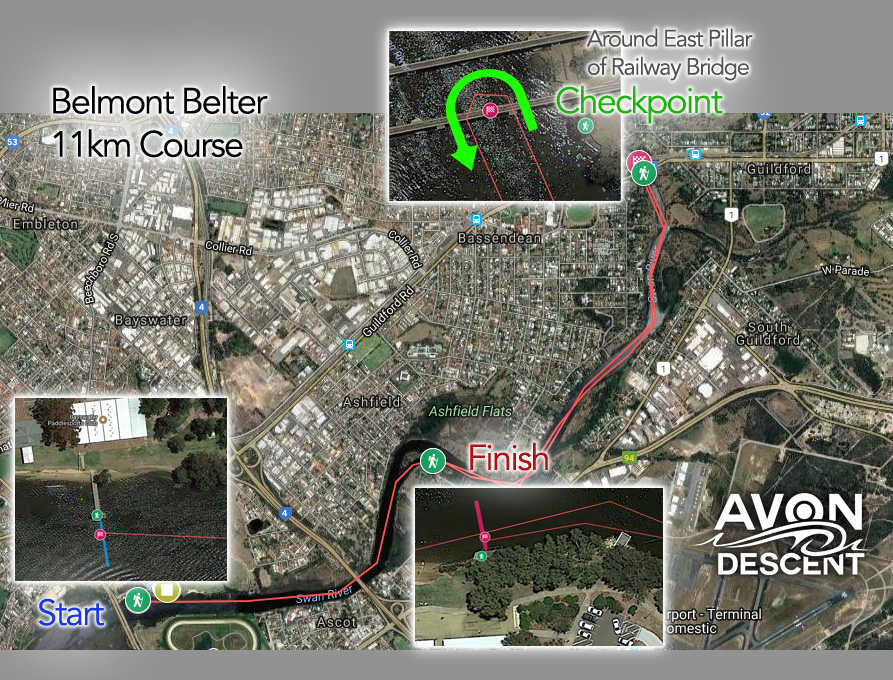 The race will be a mass start beginning at the jetty at the Bayswater Paddlesports Club, where paddlers will race upriver past Garvey Park to the Guildford Railway Bridge checkpoint in the City of Swan. Competitors will approach and do a loop from right to left around the easternmost pillar of the railway bridge and will then head back downriver for a dramatic finish on the shores of Garvey Park in the City of Belmont.
Support crews may meet competitors at the finish line where winners will be announced, or once the presentation is complete, competitors may opt for a relaxed paddle back downriver to Riverside Gardens, Bayswater.
Grid Placements on offer
(taken from Event Rules)
Grid               Classes           # Competitors
6
Double Kayaks and Skis
8-12
Order of placement within each Class listed to be determined by a Qualifying race held in 23 July 2017
7
Single Kayaks and Skis
8-12
8
Single Kayaks and Skis
8-12
9
Single Recreational
8-12
10
Double Recreational
8-12
11
Team of 2
8-12
12
Team of 2
8-12
13
Team of 4
8-12
Rules
Competitors must use the same craft they will be using in the Avon Descent. You will not be required to wear whitewater safety equipment.
Scrutineering must be completed prior to the start of the race.
After scrutineering and prior to the race, competitors must sign in at the start tent. Those who do not sign in will not be given a placement.
All competitors will compete as individuals in the Qualifying Race but for teams only the fastest team member's time is recorded. Teams are however free to nominate which competitor in that team starts on the allocated grid on Day 1 of the Avon Descent.
Although only open to Early Bird competitors, where teams and doubles have paid their entry prior to early bird it will entitle all members of that team or double to compete in the Qualifying Race (as long as they have nominated).
Those who are found to have participated in unsportsmanlike conduct on the river risk losing their grid.
Remember to arrive early!
For ALL Competitors:
Remember Scrutineering on 23 of July in Bayswater is COMPULSORY for all entries (regional and interstate exempt). Those who do not have a valid reason for not to attending will be subject to a late scrutineering fee.
Good Luck in the Race!