Congratulations to Colin Bartley for winning 1st in the Open category the Canon Light Awards 
August Brief 2015 Photography Competition!
Colin submitted his photo "Paddlers cold misty morning", which was taken on the morning of day two of the Avon Descent.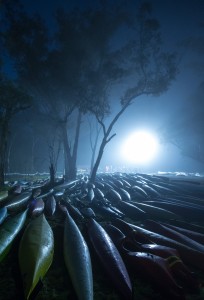 Paddlers cold misty morning. By Colin Bartley.
Judges comment: "What a strong and original image this is. It is full of atmosphere and graphics. The single strong back light cutting through the mist is just perfect – especially when rendered with the cool colour balance. The shapes of the canoes look like stranded whales or dead tuna and make the scene somewhat surreal. The people in the background all huddled together add to the feeling of cold and frosty".
Originally posted by Canon Light Awards.