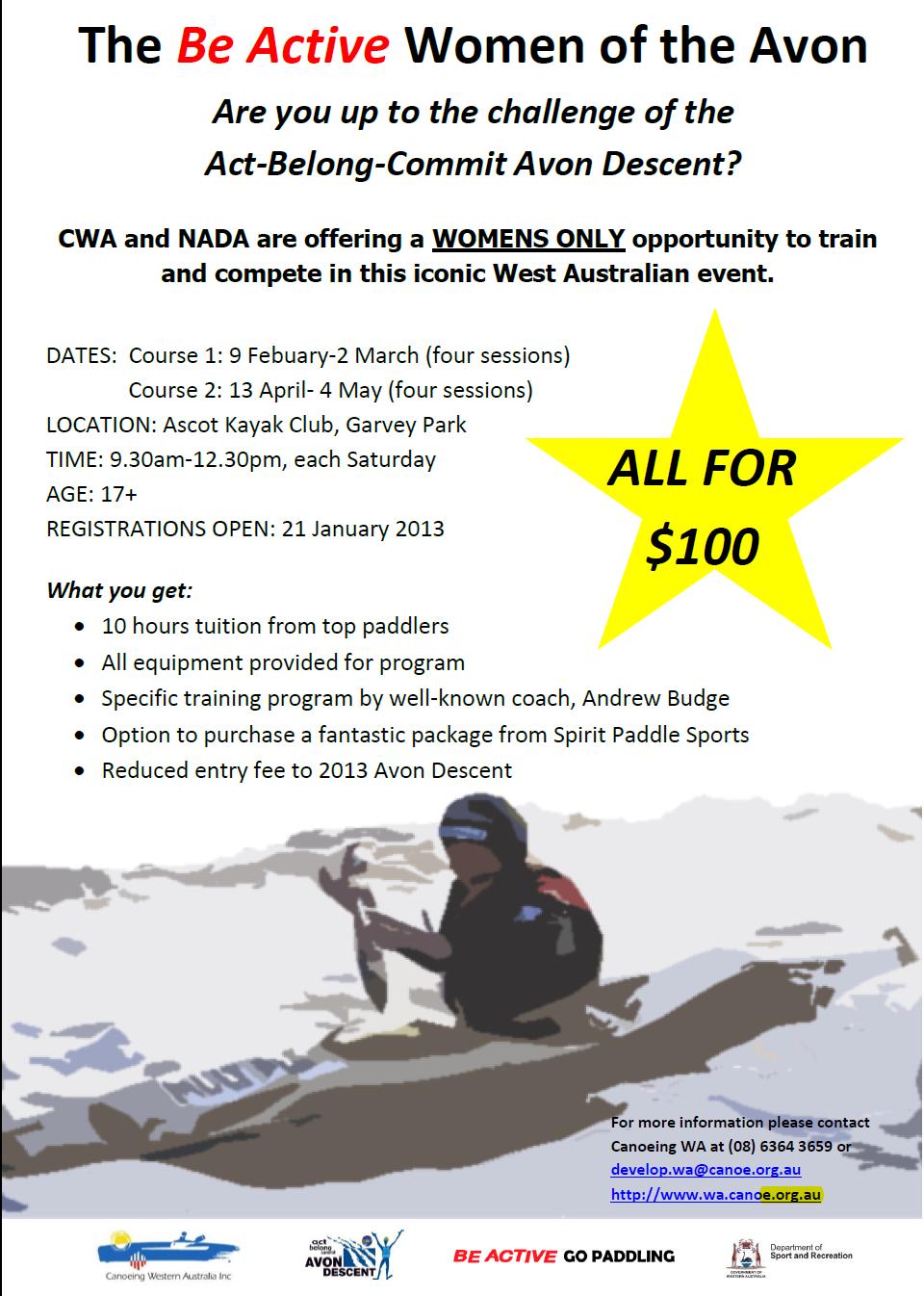 Avon Women Network
If you are intending to do the Act-Belong-Commit Avon Descent or have already participated and are competing again this year come and join our Avon Women Network.
We promise no frills but probably a few spills.  No question is too silly but not to ask is just plain silly. We don't have any 'Sooky Lah Lah's' but if you have decided to do the Act-Belong-Commit Avon Descent then you have passed that criteria.
Seriously though, if we can assist you with support then we will.
If you would like to join our emailing network please email Leo and she will add you on to the contact list akcmarketing1@gmail.com - You can email any in the group with specific questions or get a response from more than one
Robyn Khorshid

rokhor@iinet.net.au

Robyn has done about ten Avons, always in a team. She is a ti-tree specialist. Well worth getting a few pointers from Robyn. There's a guide to many of the main valley rapids on her website here, though it does not take the place of practice on the water."
Rosalie Evans

rosalie@dermalogicaatfresh.com

Rosie has competed competitively in 12 Avons. She follows a disciplined training program and the results speak for themselves. Always laughing always happy until she puts her race face on, then anything is possible.
Alaine Davin

alaine@canoeingdownunder.com.au

Alaine works for Canoeing Down (CDU) Under and has answered every newbie question you can think off. CDU are very supportive and provide valley runs and instruction at a good price. Click here for CDU website.
Jenni Bateman

bodysolutions@gmail.com

Jenni is real competitor in any race. She has competed in the Act-Belong-Commit Avon Descent twice in teams and twice as a single competitor
Dea Curtis

deacur@bigpond.net.au

Mum of the renowned 'wavehopper family' Dea along with husband Dennis has introduced and supported many paddlers to complete the Act-Belong-Commit Avon Descent. She loves the race and loves the sense of achievement.
Karen Green

kmgreen@iinet.net.au

Karen has had plenty of practice in the back of a K2. Balancing career and family means Avon Decent racing is on hold this year. Keen to assist. If you have questions or want to chat, Karen looks forward to hearing from you.
Tash Leaversuch

leaversuch@bigpond.com

Tash has a surf background. Tash feels she must complete what she started in 2009 – finishing the Avon on a double with her husband (poor Leavo). Keen to drag as many females into this race – to experience the euphoria of finishing or the devastation of unfinished business
Libby LeCoultre

libinatorle@hotmail.com

As a fresh faced youngster Libby was dashing down the rapids and passing many of her male counterparts. She is a young and strong paddler and has great white water skills.
Robyn Harris

rha75115@bigpond.net.au

Not that she would ever say so but Robyn is the best female white water paddler in Western Australia. She has been known to stop for a cup of tea on her way down the valley though and still finish at the pointy end
Leonie Cockman

akcmarketing1@gmail.com

Leo has done 9 Act-Belong-Commit Avon Descents and it is her favourite race. She thinks anyone who puts their mind to can complete the gruelling 2 days. Some would say her approach to Training is too casual but enjoyment is a big part of training and competing for Leo.
Some Network Paddling you may like to join in with.
Dea and Fiona
We paddle on Wednesdays and weekends at Mindarie keys or more often out along the coast toward Quinns rocks about 4pm, my mobile number is 0404021785 if anyone wants to join us. Dennis is often with us, shift's allowing, but he's used to paddling with women!!
Tash
We have paddling sessions are available mon-fri 5.30am.
Mon/Wed/Fri 5.30am @ the Coomb in Mosman Park.
Tues/Thurs 5.30am @ Johnston Street boat ramp in Mosman Park.
These sessions are hard, usually off the water at 7am (covering 13-15km), group of about 10-20 (usually using ocean craft) blokes, Ruth Highman and myself are the only chicks. Happy for any other chicks to come to these sessions, corners can be cut. Lights required.
Leo and Helke
Every Thursday in June and July at 4.00 pm. We meet and leave from Ascot Kayak Club Fauntleroy Ave, ASCOT. We cater for all abilities. If you are a fast-ish paddler you can tag along with Helke. Training includes distance and intervals. If you have just started you can paddle with Leo. Allow a good 2 hours.
Robyn
Robyn is available during the week or weekends if you need a training partner for any part of Act-Belong-Commit Avon Descent training except the valley.